Quasar & FF News
September '10
The 2010 Quasar gathering took place September 5th/6th.This was the 10th meeting and also the last held by Mark. Dave Lochead from New Zealand attended and had a ride of Govert's Quasar.
September '06
The 2006 Quasar gathering is scheduled to take place over the week-end of September 9th/10th in Hastings, East Sussex. We hope to have a record number of Quasars present.
December '05
After 2 years hard work, Govert's Quasar, (formerly UK registration FHR 941W), is not only returned to full running order, but has also been approved for use on the road by the Dutch authorities. Congratulations Govert !
September '05
The '05 Quasar outing took place over the week-end on September 10th/11th. Photos of the event are HERE.
August '05
Malcolm Newell's mightiest creation, the Z1300-engined 'SEV' Phasar has finally returned to the UK after 18 years in Australia. It's restoration will be a long-term undertaking. More information here.
April '05
Mo Simpson had his Isle of Man registered Quasar, (GAM900W), auctioned by Bonham's at the Classic Motorcycle Show in Staffordshire. Happily the Quasar was successfully bid for by freelance motorcycle journalist and long-term Quasar enthusiast Paul Blezard, so after many Quasar escapades over the last 20 years he finally has one of his own to play with. Congratulations Paul !
October '04 Web Site Update
An extensive update to include details of many of Malcolm Newell's other 2 and 3-wheeled creations. This can be accessed from the main page via the link to Other Malcolm Newell Creations
I've also added a gallery of photos from this years Quasar gathering under the 'events' menu.
August 2004
Details of this years get-together for Quasar aficionados are included in the August 2004 Newsletter
May 2004
The sale of TWS 631T has now been agreed and we look forward to seeing it on the road at this years Quasar events.
Malcolm Newell Memorial day. Many of those involved in the Quasar story gathered at Malcolm's home at Field Cottage on May 2nd to mark the 10th anniversary of his death.
Some photos of the event are available courtesy of Ian Kew at http://www.apcf98.dsl.pipex.com/MM04/index.htm

May 21st-23rd. We have been invited to join the Bond Bug Owners Club at their rally on the Isle of Wight. The agenda is to travel down on the Saturday morning, drive around the Island visiting various attractions then, on Sunday morning, cross back to the mainland in order to visit Sammy Millers museum in the New Forest. A barbeque is promised for Sunday afternoon. E-Mail me if you'd like to attend.
April 2004 - Quasar For Sale
TWS 631T has come up for sale.
If you're considering becoming a Quasar owner, ensure that you read the notes for potential buyers before committing yourself.
Feb 2004.
I'm delighted to say that my Newell-built GS1000, Hub-Centre steered Phasar passed it's MOT and is now road legal for the first time since it's construction in the early 90's. Loads of work still to do, but I've had a chance to ride it at last and it felt pretty good.
Some pictures of the device are now available. here
Jan 2004
Diary dates for 2004 are as follows :-
May - 10th Anniversary of the death of Malcolm Newell, designer of the Quasar.

May 21st-23rd. We have been invited to join the Bond Bug Owners Club at their rally on the Isle of Wight. The agenda is to travel down on the Friday afternoon, drive around the Island visiting various attractions on Saturday then, on Sunday morning, cross back to the mainland in order to visit Sammy Millers museum in the New Forest.

June 26th/27th. Quasars and other innovative 2-wheelers will be on display on the BFF stand at the 'Motorcycle World' festival at the Beaulieu motor museum in the New Forest.

August. The World Cabin Motorcycle Driving Championships. Brno Czech Republic. I may be competing this year with the new Quasar, IF it gets finished on time.

Early September. The annual Quasar rally at Hastings East Sussex.
Dec 2003
It is with great regret that we learned of the death of Nick Roche, stalwart supporter of the Quasar cause. Nick died from a massive heart attack. We'll all miss him.
Nov.2003
Quasar Rally 2003
We had a great time, thanks to all the guys that took the trouble to drive down to Hastings and visit us. After dinner and drinks on Saturday, we visited the Laughton Country fair on Sunday morning before adjourning to the Six Bells at Chiddingly for lunch. We'll definitely do it again next year !
Quasar for sale
Colin Farrow's Quasar, currently in trike form, is being converted back to original spec. for sale in the new year. Contact me if you're interested in acquiring this 'one owner from new' example.
National Motorcycle Museum Quasar
The National Motorcycle Museum advise me that their Quasar was totally destroyed in the fire that wrecked most of their collection, the first Quasar to be lost since Malcolm's first prototype, (which he managed to dump under a lorry).
Simon's total re-build of GAM 901W continues. We're close to being ready to taking it out for a test run, naked, (the Quasar, obviously!) It'll be the first time it's turned a wheel under it's own power since 1986.
Dutch Quasar
Govert is working hard on getting John Malfoy's Quasar up and running. He's replacing the hydraulic outriggers with a standard Quasar stand assembly. The Quasar's now running, and he's working on the electrics.
'Quicker Quasar' Project
The new Quasar is up and running. It's been MOT'd and registered and I'm now working hard to turn it into a practical road-going machine. The original Guzzi 100 Sport gearbox has been replaced by a California EV box which is operated by a Kliktronic push-button shift system. The Cali gearbox is much quieter and has wider ratios, an all-round improvement. I've also recently added a digital gear indicator and electronic ignition. Next step is to get a stainless 4-2-1 exhaust made, then a proper fuel tank to replace the current 1 gallon tank.
August 2003
2003 Quasar gathering, Hastings, 6th/7th September
Once again we're pleased to invite all owners of Quasars and other FFs, constructors, and anyone who just wants to see a few of the above, to join us in Hastings on September 6th/7th. The format will be identical to previous years, meeting on St Leonards sea-front on Saturday afternoon, and dinner at the Bo-Peep Pub.
On Sunday we'll go for a bit of a drive through the country-side, ending up at the 6 Bells at Chiddingly for lunch.
Contact me if you'd like to attend via

Beaulieu 'Motorcycle World' 2003
A really terrific event this year with the BFF club getting a large stand in the 'Classics' area, (so perhaps we've officially 'arrived'). Attended by four Quasars, (thanks to Shawn, Nick and Simon), including the first public appearance of the 'Quicker Quasar' which is nearing completion. Other 'Classic' FFs present included the Voyagers of Royce Creasey and Graham Robb, Bob Winsper with the original Difazio CX500 'Flying Banana' and Arthur Middleton who came all the way from Ireland in his home-built Kawasaki FF. Photos
Another 'Lost' Quasar is located
I've been contacted by a gentleman in Holland who's found John Malfoy's Quasar in a rather dilapidated state. He's hoping to buy it and get it back on the road.
Quasar article in Classic Motorcycle Mechanics
Nick Roche's Quasar was featured in the March 2003 edition of Classic and Motorcycle Mechanics in an article by Roland Brown.
September 2002 - 2nd National Quasar Gathering
This years gathering for Quasar owners and enthusiasts will take place over the week-end of September 7th/8th.
Agenda is to meet in Hastings on the afternoon of Saturday 7th, have dinner together, and go for a ride-out on the morning of Sunday 8th to a place of local interest before having lunch at the 'Six Bells' pub at Chiddingly, East Sussex.
Further details to follow.
August 2002 - World Cabin Motorcycle Driving Championships, Brno Czech Republic.
The event is organised by Arnold Wagner, who runs the Ecomobile factory at Winterthur, near Zurich, and consists of four days on the Czech GP race track, culminating in the championship taking place on Thursday August 15th.
I will be competing for the fourth year running, riding my Quasar, and hope not to get hospitalised this year !
This year the Quasar is sporting the lower-ratio 'Sprint' final drive, a Formula 750 close-ratio gearbox and 4-pot AP Racing brake calipers, as well as a host of other enhancements too numerous to list here. Hopefully we'll be bringing the BFF lap-record for the track down a little from the current 3 mins 14 secs, fingers firmly crossed !
July 2002 'Which Kit?' Magazine
Feature on Sussex Kitcars - Specialists in Quasar building, servicing & upgrades.
29th/30th June 2002 - Motorcycle World at Beaulieu, Hampshire.
The BFF, (Best Feet Forward), Club was, once again invited to attend the event and take our various creations around the diminutive demonstration circuit. Graham Robb organised the stand, (for which, many thanks Graham), and impressed us all by transporting the Gazebo used for the stand in the boot of his Voyager.
There was a typically entertaining demonstration of 'assertive' riding by Royce Creasey to entertain the crowd, and the Quasar also put in a respectable performance.
Royce also took the opportunity to reveal his latest creation to the world, a FF conversion of a Yamaha T-Max 500cc scooter which, with the addition of a vastly lowered seat with Volvo seat-back and forward foot-boxes, proved to be simple, nimble and accessible FF with usability greatly improved over the standard Yamaha-spec machine.
The device is now in the hands of it's new owner, Andrew Gibbens, who will continue to refine device.
18th/19 May 2002 - BFF Show at Peterborough.
The BFF once again had a stand at the event, organised by local Quasar owner Stephen Moore. Many long-term FF stalwarts attended, including Pete and Angie Lawrence , who treated us all to cups of tea and bacon sarnies, Tudor Thomas, with his rear-engined 'Slug', and Andy Tribble, who is currently having a new light-weight FF constructed by John Bruce.
September 2001, First National Quasar Rally, Hastings, East Sussex.

This turned out to be a most entertaining week-end thanks to the many Quasar and FF enthusiasts who traveled the length and breadth of the country to be there. Five Quasars attended which, bizarrely, is a record. Several other Quasar owners managed to attend, hopefully next year everyone will be back with their bikes.
August 2001
World Cabin Motorcycle Driving Championships, Czech Republic.
A disastrous event this year. After the arduous trek to the Czech GP race track at Brno, I managed to crash the Quasar early in practice for the event, suffered ligament damage and internal bleeding and was sent home to England by the hospital. Most unsatisfactory all round. The only good news was that the Quasar seemed significantly faster this year, thanks to a new engine that had been extensively improved by Dick Harvey, F750 Race Club engine tuner.
July 2001
The new, lower ratio, crown wheel & pinion sets have arrived and are looking very good !
Q434 AFG is completely gutted in preparation for next months 'World Cabin Motorcycle Driving Championships' in the Czech republic. We have a new engine, (raised compression, balanced crank, lightened pistons, lightened valve train, stage II cam etc.), a close ratio gearbox, new fuel tank, new drive shaft, 4-2-1 exhaust and new diff to organise. Wish me luck!
The Quasar 'Gathering' is still on track for Sept. 1st/2nd. E-Mail me if you'd like to attend via

June 2001
'Mystery Quasar' Found !!! The owner of the gorgeous metallic blue Quasar spotted in Harlow in '98 made contact at the 2001 BMF show at Peterborough. Welcome to the club Kevin ! This means that only three Quasars remain un-traced, one that was stolen and two that are believed to be abroad.
There are rumours that there may be a second, as yet un-identified, Quasar in the Eastbourne area. Could be a Mark II, could be fantasy, I'll try and track it down.
May 2001
Quasar Performance Enhancement on the way. I've found a gear-cutting company which is willing to make a batch of lower-ratio crown-wheel and pinion sets for the Quasar. This would reduce the final drive ratio from 11:39, (3.545 :1) to 9:37, (4.11:1), and the theoretical top speed from 174 mph @ 8,000 rpm to a mere 150mph.
In practice it should improve top speed and performance significantly by making all the gears lower and closer together. Delivery is expected mid-June at £650 per set, including VAT and delivery. Only six sets are being made, and three are already sold, so let me know soonest if you want one.
Quasar owner traced in the Channel Isles - We've recently established contact with Malcolm G. on Jersey who's owned SAM 318Y since 1982, we hope to have a photo to add to the archives soon !
Another Quasar Found ! - We've just managed to track down another Quasar, in Reading. Thanks to Clive Sherwood for the information leading to it's discovery. This is the 18th owner traced to-date so only 4 remain to be found. The hunt continues.
Quasar Rally Latest - The number of Quasar owners promising to attend the Quasar rally in September has reached double figures ! If you have a Quasar, bring it along for the biggest Quasar event ever !
The 'Mystery Quasar' remains untraced to-date, but research suggests that it may be the gold Quasar featured in the original Quasar brochure, registration TWS 633T. Any info. regarding it's current whereabouts would be gratefully received.
April 2001
Mystery Quasar Photo - Cash reward for information leading to the owner !
March 2001
WORLDS FIRST QUASAR RALLY PLANNED FOR 2001
To celebrate the 25th anniversary of the launch of the Quasar, we're planning a weekend social get-together for all Quasar owners, ex-owners, and enthusiasts, in Hastings, (as in 'Battle of'), on the weekend of Sept. 1st/2nd.
There will be the opportunity to explore the shops and attractions of Hastings old-town, enjoy a round of 'Pitch & Putt' in a fantastic cliff-top location overlooking the town, and go for a mass ride-out to the worlds first 'Ogri' cafe for lunch.
There will be trophies !
It should be an unprecedented photo opportunity, a chance to talk Quasars non-stop, (if you feel so inclined), but above all fun for everyone. Families are welcome.
If you want to see a whole bunch of Quasars in one place together, maybe get your photo in the bike press, or just want to see the crowds gasp in amazement as we ride by 'en masse' E-Mail me to get onto the rally mailing list at

Feb 2001
HONDA'S QUASAR IS FOUND
I've recently traced the whereabouts of the Quasar believed by some at the factory to have been bought by Honda, (via an intermediary), and taken back to Japan where it was reportedly seen circulating on a Honda Test track. It transpires that the bike, (TWS 631T), has in fact been in the UK the whole time and still belongs to the same guy that bought it back in 1978. He has, however, resorted to some radical customisation in order to keep it on the road !
RIDERS DUE TO DOUBLE IN 2001 SHOCK !
Whilst the only Quasars known to be in road-going condition during 2000 belonged to Nick and Mark, another pair may be returning to the road in a few months time. Shawn's Quasar, (FHR 942W), has been undergoing a complete rebuild with Hamrax for the last eighteen months but they've finally given up on ever finishing it. Shawn has now arranged for it to be taken over by kit-car building specialist 'Sussex KitCars'. We expect to see it all sorted and back on the road by the summer. Meantime, Simon continues plugging away rebuilding GAM 901W. We can report that the chassis is now newly powder-coated and the, (expensive), re-assembly phase is about to commence. Andrews Quasar, which he bought last year, has been registered without any problem and is now undergoing a selective re-build as he checks out all the major assemblies. Should hit the road for the first time in the spring.
Sept 2000
VOYAGERS AT SILVERSTONE
This years get together at Silverstone, to watch the formula 750 race club and their Reliant-engined racers, took place this year on 9th September. An unprecedented five Voyagers made it to Silverstone this year as well as a Quasar and Graham Fryers VF500 FF. Keith Duckworth, (of Cosworth fame), was there with his Voyager and confessed that, having spent some time examining the Ecomobile idea, he's wondering whether it might not be possible to build a mid-engined, fully-enclosed, FF.
QUASAR AT THE 'WORLD CUP'
I competed in the 'World Cabin-Motorcycle Driving Championships' in August 2000 with my Quasar. The event is staged at the Czech GP race track at Brno. The Quasar acquitted itself honorably and provided considerable entertainment to the riders of modern sports bikes that were also on the track at the time.
MOTORCYCLE WORLD
The annual Motorcycle world Event at Beaulieu featured a section on roofed two-wheelers. Arnold Wagner, creator of the Eco-Mobile brought over three Ecos and launching his new 185Bhp 220Mph, Turbo version which could claim the title of Fastest Production bike in the world. Also on-show were the BMW C1, Benelli's Aptiva and Phil Meatons 'Bubble'.
A selection of UK-Based FFs, including a Quasar also attended. Public interest was particularly stimulated by a couple of riding demonstrations around a miniature track. This was carried out in a particularly enthusiastic manner by the UK FF brigade.
QUASAR FEATURE IN CLASSIC BIKE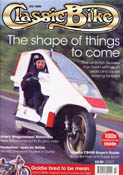 As well as having a Quasar on the front cover, the July 2000 edition of the UK magazine 'Classic Bike' included a ten-page full colour feature on the Quasar, and Phil Read, 8-times world Race Champion, tells us what he thought of the Quasar. (He liked it a lot !) - Essential Reading !
Last updated 23rd August '06