Z1300-powered Phasars
Kymera NLD 116V
SEV JKX 735Y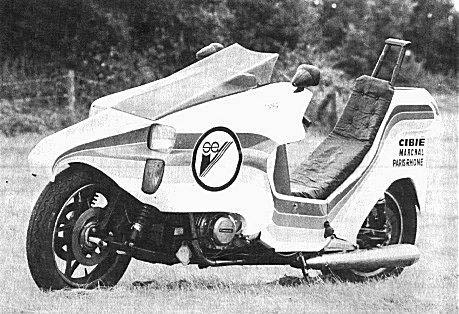 This was undoubtedly one of Malcolm Newell's finest creations. Powered by a
Kawasaki Z1300 6-cylinder engine rated at 120bhp, and fitted with Tait hub-centre
steering, the SEV had the performance to match it's striking appearance.
Malcolm arrived at the SEV via an earlier prototype, dubbed 'Kymera', but in 1981 he was commissioned by the French automotive electrical company Cibie to build them a Z13 Phasar for publicity purposes. The 'SEV', as the Phasar was known, was capable of cruising at 140mph and was timed at over 160mph at the MIRA test track. At that time, this was the highest speed ever recorded by a road-going motorcycle.
The SEV was exhibited at a number of shows, including the 1984 International Bike Show at Olympia.
Cibie sold the SEV in 1985 to the Motorcycle dealer 'Wheels International', who in turn sold it to Chris Baker, an associate of Malcolm Newell.
Later the SEV became the property of Robert Milsom who had it converted to a two-seater by Malcolm Newell and then took it with him when he emigrated to Australia in 1987. In Australia Bob had a BIG crash in the SEV, and, although he walked away from it, the SEV was badly wrecked and was subsequently sold for salvage by the insurers.
The buyer stripped easily saleable parts like the AP-Lockheed front brakes, instruments, even the rear tyre from the bike before selling it on to Gert Roewer who planned to rebuild it.
Eventually after nine years of ownership, Gert concluded that he'd never get round to fixing the Phasar and offered it to the British FF community via the Feet-First Mailing list.
Gert has supplied the following photos to indicate the state of the Phasar at the time of the sale.
As there was no interest from any of the mailing list members, Quasar enthusiast Mark Crowson negotiated to buy the Phasar, bring it back to the UK and undertake it's restoration.
Magazine Reviews:
Motorcycle weekly 7th June '81.
Motorcycle News
Superbike October '81 'Cruise Missile'. 3 pages/8 photos road test of the Z1300 'Kymera' Phasar.
The Biker May '82 'Feet First into the Future' 4 pages/10 photos, road test of the Z1300 'Kymera' Phasar.
Motorcycle Sport June '87. Front cover and 1 page review by Royce Creasey of the 'SEV' Phasar under the ownership of Chris Baker.
Links
SEV specification on the BFF Web site
Photo Gallery of Kymera and SEV Phasars
Last updated 9th August '05