GAM 900W
Chassis No 131080. Engine No. OE8560228
(Photo Courtesy of Paul Doyle)
Current owner : Unknown, back in the IOM (sold from Paul in 2010).
Purchased by auction from Bonhams at the Classic Motorcycle Show in Staffordshire April 24th 2005. (Read Paul Blezzard's account of his acquisition of the Quasar).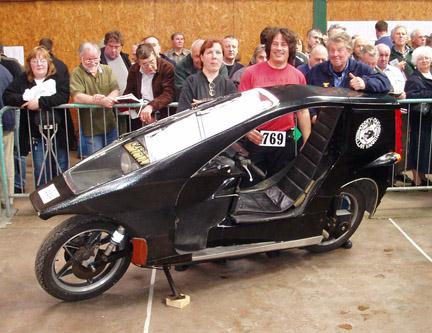 Linda and Mo Simpson bracket the successful bidder for GAM 900W (Photo Courtesy of Paul Blezard)
Previous owner : Maurice Simpson on the Isle of Man, who rode the machine all over Europe before moving it to the isle of Man in 1985. Mo was also a lap record holder at Mallory Park in his day on a 900 Kawasaki.
Originally registered 25th November 1980 and purchased by Paul Doyle in December 1980. (Blue).